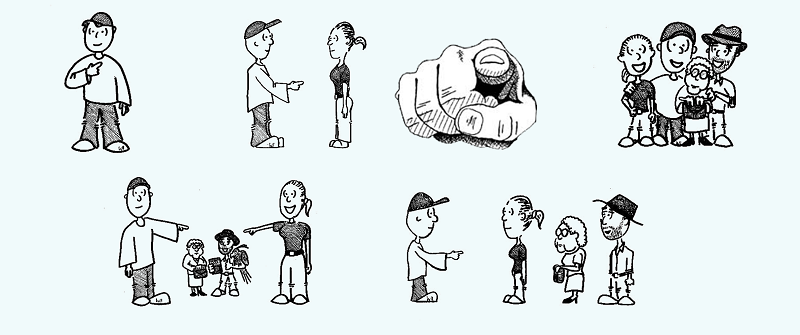 There are just a few pronouns in Mandarin Chinese, and unlike many European languages, there are no subject / verb agreements to worry about. Just a few simple rules tell you everything you need to know about pronouns in Chinese.
Basic Pronouns

These are the pronouns of written Mandarin Chinese.

You'll notice that there are two ways of saying "you." When speaking to elders or someone in authority, it is more polite to address them formally with 您 (nín) instead of the less formal 你 (nǐ).
While there are six pronouns listed above in written Mandarin, in spoken Mandarin it boils down to just three basic pronouns: I / me, you, he / she / it. This is because 他 / 她 / 它 are all pronounced the same, tā.

Plurals

Plurals are formed by adding 們 (traditional form) / 们 (simplified form) at the end of a basic pronoun. This character is pronounced "men." See below:

•

We, Us: wǒ men: 我們 / 我们
•

You (plural): nǐ men: 你們 / 你们
•

They, Them: tā men: 他們 / 他们
Differentiating Gender

As discussed earlier, gender differentiating pronouns like "he", "she", and "it" all have the same sound, tā, but different written characters.
In spoken Mandarin, differentiating between genders is a little less obvious. However, the context of the sentence will usually tell you whether the speaker is referring to a man, a woman, or a thing.

Reflexive Pronoun

Mandarin Chinese also has a reflexive pronoun 自己 (zì jǐ). This is used when both subject and object are the same. For example:

Tā xǐ huàn tā zì jǐ
他喜欢他自己 / 他喜歡他自己
He likes himself.

自己 (zì jǐ) can also be used directly after a noun or pronoun to intensify the subject. For example:
Wǒ zì jǐ xǐ huàn.
我自己喜欢 / 我自己喜歡
I, myself, like it.

Sentence Examples Using Chinese Pronouns

Here are some sentences using pronouns. See if you can use these examples as a guide or template to creating your own sentences.
Wǒ: 我
►Wǒ xǐhuān bīngqílín
我喜歡冰淇淋。
我喜欢冰淇淋。
I don't have a bicycle.

►Wǒ méi yǒu jiǎotàchē
我沒有腳踏車。
我没有脚踏车。

Are you a student?
►Nǐ shì xuéshēng ma ?
你是學生嗎?
你是学生吗?

Do you like ice cream?
►Nǐ xǐhuan bīngqílín ma ?
你喜歡冰淇淋嗎?
你喜欢冰淇淋吗?

Do you have a bicycle?
►Nǐ yǒu jiǎotàchē ma ?
你有腳踏車嗎?
你有脚踏车吗?

She is a doctor.
►Tā shì yīshēng